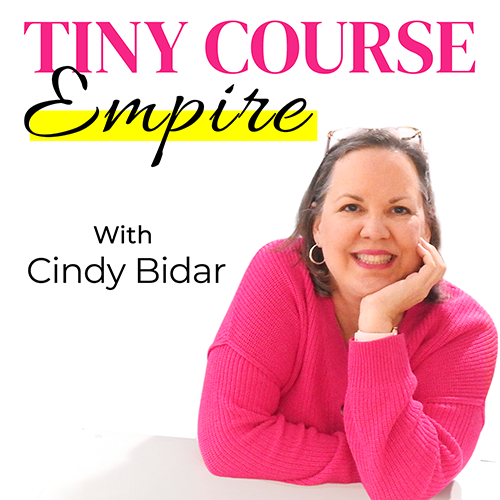 It's pretty discouraging when you've worked really hard on a course or a product, and you launch it out into the world with lots of hope and excitement and then… crickets.
Maybe you make one or two sales—or maybe not even that many, but pretty soon you find yourself questioning everything about the course.
It's the wrong topic for your audience. It's not appealing enough. It's the wrong time of year. Someone else just launched a similar product.
You might even be tempted to scrap the whole project and just start over.
I know that's how I felt when it happened to me. But you know I'm all about problem solving and repeatable processes, so instead of scrapping what I knew to be a great product, I got to work fixing my key marketing piece – the sales page.
In this episode, I'm offering you a glimpse into one of my most popular courses and giving you the tools you need to rescue a low-converting sales page.
Prefer a transcript? Here you go!
What you'll learn in this episode:
Important conversion rate facts vs. fallacies (and why you can't believe what you're told about "good" conversion rates).
One critical piece of information you'll find in Google Analytics (and that few product sellers ever stop to consider).
Simple troubleshooting steps to take before you blame your sales page (you might be surprised to find out it's not a copy problem after all).
How to know if you even have a conversion problem… because sometimes it's another issue completely!
The top technique for improving any sales page (even one you think is doing pretty well as it is).
The single most important element of your sales page, and why I recommend creating multiple versions of it.
How to uplevel your sales page simply by getting clear on the difference between a feature and a benefit.
Resources mentioned:
Sales Pages That Convert offers a much deeper dive into creating high-converting sales pages for your digital products or courses. Use code PODCAST at checkout to save 40%.
Google Optimize let's you split test any landing page using your Google Analytics account.
Thrive Optimize works with Thrive Apprentice to easily set up split tests for any sales or landing page.
Six-Figure Systems is dedicated to helping you grow your online business, with more than 50 courses, live workshops, Q & A calls, and direct access to me for answers to all your marketing questions.
Transform Slow-Converting Sales Pages Fast
You'll also be automatically subscribed to my more-or-less daily email newsletter. You may unsubscribe at any time.