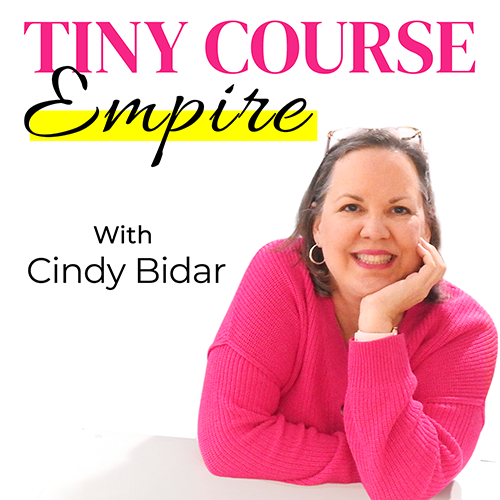 Does this sound familiar? You've put the finishing touches on your latest course or digital product, and you sit down to write your sales page, and… nothing.
The words simply will not come. You don't know what to include, or even where to start. You are definitely not alone. Even though writing sales copy is one of the most important skills for online business owners to master, it's also one of the most difficult, and with good reason.
Starting at a blank page is hard. It's intimidating.
Writing about your own products is uncomfortable.
Or maybe you've convinced yourself you're just not a writer.
Whatever is holding you back from writing sales pages with ease, in this episode of the Tiny Course Empire podcast, I'm going to help you get past it. I've got a simple framework you can follow that's going to give you the confidence to write those sales pages, and to get them done quickly.
Prefer a transcript? Here you go!
What you'll learn in this episode:
My number one tip for overcoming writer's block, no matter what you're writing
The most important part of your sales page, and how most online entrepreneurs get it wrong
How to "chunk" your writing so you're not overwhelmed by it
Resources mentioned:
Six-Figure Systems is my monthly program where I'll show you how to start an online business from scratch, even if you're brand new. Start a 7-day trial today for just $7.
Lexi Rodrigo was one of my first online mentors, and she got me started writing sales copy.
Sales Pages That Convert takes a deep dive into all things sales pages, from headlines to that final call to action.
Download Your Online Business Roadmap
You'll also be automatically subscribed to my more-or-less daily email newsletter. You may unsubscribe at any time.