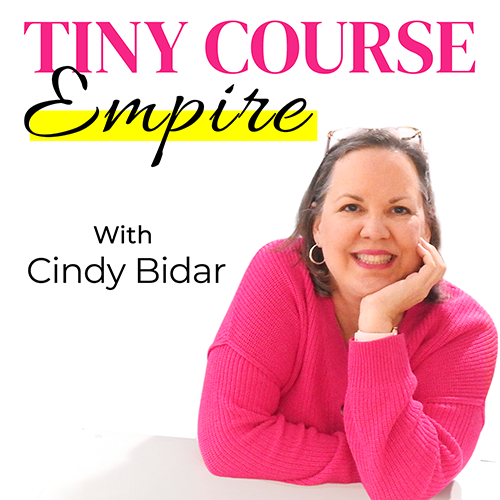 Growing your email list continues to hold the top spot on most business owners' project lists. We know it's important. We recognize the value in it. We work on it every single day.
And sometimes, it still feels like slow going.
One strategy I've used (and that continues to work) to grow my list quickly is participating in bundle and giveaway events. The idea is simple:
Donate a digital product or course as part of a bundle or giveaway event.
The event host sells or gives away access to all of the products in the bundle.
Customers or subscribers who buy or opt-in for access, then join your mailing list to download the resource.
Basically, you're offering a highly valuable lead magnet to a targeted audience for a limited period of time, and the results can be amazing. I've added as many as 1,200 subscribers to my list in less than a week with this method.
If you're curious about how bundles work and why you'd want to join in, then listen up, because my friend Val has the inside scoop. She's often the one behind-the-scenes pulling everything together so big events like this run smoothly, and she's got some insights that will help you make the most of the next event you participate in.
Prefer a transcript? Here you go!
What you'll learn in this episode:
What bundle and giveaway hosts really want you to know as a participant
How Val came to be known as the go-to expert when it comes to hosting bundles and giveaways
Why you should have your website in shape before you enter a giveaway or bundle
What types of businesses really aren't a good fit for bundle participation
How to make the most of your sign up page
Niche bundles that Val has seen (it's not all business, all the time)
Telltale signs you may want to avoid a particular event
Resources mentioned:
ValSelby.com is where you can find Val and all her amazing resources.
Kelly McCausey is a mutual friend, and she blogs at LovePeopleMakeMoney.com.
SixFigureSystems.com is my monthly program you'll learn all things online business, including how to make the most of your bundle and giveaway participation.
Be Prepared for Your Next Event
You'll also be automatically subscribed to my more-or-less daily email newsletter. You may unsubscribe at any time.