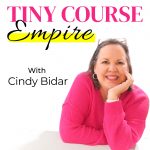 "What got you here won't get you there."
A lot of things will happen on the way from no income to six figures (and beyond). Not all of them are good or beneficial (or even necessary), and learning to navigate those changes is a critical skill all business owners need.
In this week's podcast, we're talking about what it really takes to go from a fledgeling business to a six-figure (or beyond) empire. Grab a cup of your favorite beverage, and let's dive in.
Prefer a transcript? Here you go!
What you'll learn in this episode:
The difference between gross income and net income and why it matters
Why you might not even want to build a six-figure business (and that's OK)
What roll mindset plays in your business growth plans
How to set meaningful goals
How to get clear on what your income generating activities are so you can take steps to improve them
How to decide which new opportunities to explore and which ones to ignore
What it means to be committed to your business
Why stepping into the role of CEO is important (and how to get started)
How to know when it's time for an upgrade in your systems
Resources mentioned:
Download Your Online Business Roadmap
You'll also be automatically subscribed to my more-or-less daily email newsletter. You may unsubscribe at any time.