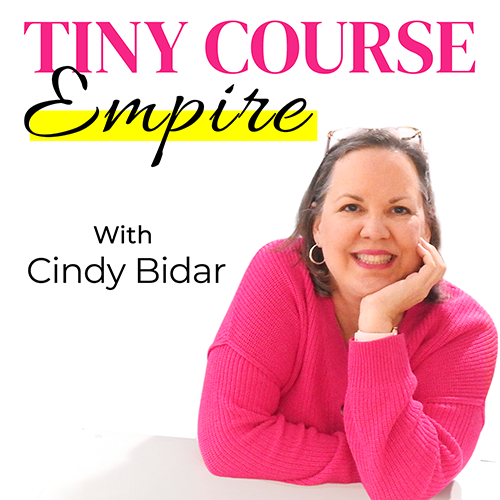 Here's a hard truth new business owners sometimes struggle with:
You have to be seen if you want to be successful.
Once upon a time, when making money online was new and competition was nearly non-existent, you could start a blog, use a fake name and a fake photo (or none at all) and still attract traffic, fans, and cash.
As competition increased though, and buyers became more savvy (or maybe skeptical is a better word), it grew more and more difficult to hide behind a computer screen—at least if you wanted to earn a good living.
"Relationship marketing" was the buzzword. "Know, like, and trust" became so overused as to turn into a cliche.
But that's exactly what it takes to be successful online these days. Relationships with real people we know, like, and trust. And you can't build that without being visible.
In this episode of the Tiny Course Empire Podcast, we're taking a look at what it means to be more visible online, some things that might hold you back, and how to choose a visibility path that works for you and your business goals.
Prefer a transcript? Here you go!
What you'll learn in this episode:
How fear can prevent you from being more visible, and some of the more common types of fear to watch out for.
Why visibility is more important in some niches than in others.
How choosing to remain invisible can mean a much longer road to finding success.
The benefits of being visible (it's much more than just profitability).
Ways to create visibility on your own terms, and even if you're a self-proclaimed introvert.
The number one thing you must do if you want to be visible online.
Resources mentioned:
Six-Figure Systems is my monthly program where we focus on building repeatable, profitable systems to help your business grow.
Visibility Toolkit was not mentioned in this episode, but this checklist pack is designed to help online entrepreneurs get seen online, even if you're brand new, and even if you consider yourself an introvert.
Download Your Online Business Roadmap
You'll also be automatically subscribed to my more-or-less daily email newsletter. You may unsubscribe at any time.