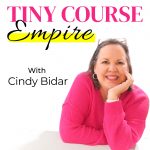 There are almost as many ways to make money online as there are people in the world who are doing it.
In this episode, I'm going to break down six popular online business models, including what it takes to get started, the profit potential for each, and how to know which one is the right fit for you.
Plus, we'll talk about how to combine business models to create multiple streams of income in your business.
Prefer a transcript? Here you go!
What you'll learn in this episode:
Which online business to build when you need quick cash.
Why even the most passive sounding model requires a lot more work than you think it will (sorry – no free rides here).
How bloggers get paid, and why it might not be exactly like you imagine.
The one business model that I think is right for everyone (even you).
Resources mentioned:
Download Your Online Business Roadmap
You'll also be automatically subscribed to my more-or-less daily email newsletter. You may unsubscribe at any time.