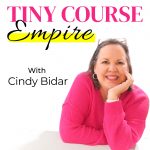 What you'll learn in this episode:
Two things I don't use for list-building. I'm going to start testing one of them soon, though.
What I consider to be my most important list-building strategy (they're all important, but this one is a must have, and I'll tell you why).
One strategy I'm considering that has me feeling quite a bit out of my comfort zone (and I'll probably do it anyway).
Rather read the transcript? Here you go!
Resources mentioned:
Boost Your Subscriber Count With These 26 (Mostly Free) Ideas
You'll also be automatically subscribed to my more-or-less daily email newsletter. You may unsubscribe at any time.