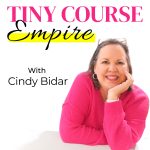 Branding concerns, tech troubles, clients to serve, a team to manage, email to answer, and don't forget life, family, and laundry, too. Our list of things to do is long and seemingly endless.
Oh, and somewhere in there, you're supposed to be creating content. Blog posts, podcast episodes, opt-in offers, emails, and don't forget courses and digital products to sell.
It's a lot, I know, and it leaves most of us looking for ways we can lessen the workload.
Enter PLR, or private label rights content. These pre-written (and in some cases, pre-designed or even pre-recorded), rebrandable products promise to slash your content creation time while maintaining your quality standards, but do they really? And how can you use content that's sold to hundreds of people and not sound like everyone else in the process?
We'll find out on this week's episode of the Tiny Course Empire podcast.
What you'll learn in this episode:
What PLR is and why you might want to use it in your business
Legitimate uses for PLR content
Some less-than-ethical ways you might be tempted to use PLR
Why some uses for PLR will only end up costing you money
Smart "rules" for buying and using PLR that will save you time and effort
My personal list of trusted PLR sellers
Resources mentioned:
Download Your Online Business Roadmap
You'll also be automatically subscribed to my more-or-less daily email newsletter. You may unsubscribe at any time.