I know, I know. You hate numbers and spreadsheets make your eye glaze over like an Easter ham.
But hear me out, because this can literally mean the difference between a successful business and one that your spouse refers to as "that little hobby of yours." As someone once said…
"That which is measured, improves."
Just like knowing your operating budget and understanding how the setting on your thermostat affects your heating bill every month, as a business owner, you must be on friendly terms with your email marketing stats.
I promise, It's not as painful as it sounds. We'll start slow, with totally do-able tracking (no degree in advanced math required) and some action steps you can take to make improvements in all the right places.
First, let's get some definitions out of the way, just so we're all on the same page.
What Email Marketing Stats Really Mean
Email Open Rates
Here's an easy one… or is it? After all, your open rate is just the percentage of recipients who actually opened your email, right? Yes, but getting a meaningful stats on open rates can be troublesome, so while this is a useful metric for comparing subject lines and send times, that's about all it's good for.
Of course, that doesn't stop us from wanting to know how our list shapes up against the competition, does it? If you're interested, Constant Contact tracks stats across their user base and publishes them monthly. (Spoiler alert: If you're in marketing or PR, your open rates probably stink.)
Click-Through Rate
When it comes to your email stats, this one is actually more meaningful.
Click-through numbers represent the percentage of email recipients who click on a link. Now, any click counts (even the unsubscribe link) so keep that in mind. But overall, this is a pretty good number by which you can judge the effectiveness of an email campaign. It shows whether or not your subscribers have an interest in the information or offer, and may indicate overall engagement.
Conversion Rates
When we talk about conversion rates, we're talking about the percentage of people who take some kind of action.
They opt-in to your mailing list.
They buy a product.
They book a discovery call.
You might say they've "converted" from a visitor to a subscriber, or from a subscriber to a customer.
Bounce Rates
This is the percentage of subscribers whose email address is undeliverable. That might be a hard bounce (the address no longer exists) or a soft bounce (the address has a temporary problem). Hard bounces are generally automatically unsubscribed by your service provider. Soft bounces will get a few opportunities to get back online before being considered a hard bounce.
Unsubscribe Rates
What percentage of people hit that unsubscribe link in your last email? That's your unsubscribe rate. Get too many of these in a single email, and you may need to question your message to market match.
But even this number can be misleading.
Take the case of a client a few months ago who suddenly had 300 or so people unsubscribe from his list in a single day. A closer look showed they were all aol.com addresses.
(I know, I didn't know there were that many AOL users left either. But I digress.)
Here's what happened. Some glitch in the AOL servers sent automatic unsubscribes to all the bulk emails coming from AWeber that day. So in this case, it wasn't any fault of my client, it was a rogue server that was making decisions for its users.
Spam Rates
Here's the one we all want to avoid–being flagged as a spammer.
If your subscriber hits the "spam" button in their email client, their provider (Gmail, Yahoo!, etc.) reports it back to your email marketing service. The subscriber is automatically removed from your list, and you get a check mark in the "naughty" column on a ledger somewhere.
These last three metrics–bounces, unsubscribes, and spam complaints–are often used by email marketing providers to judge your compliance with their rules and with good email practices.
High numbers here can indicate that you're not entirely on the up and up with your list building. Purchased lists, scraped emails, and other methods of adding subscribers without their permission will result in greater than normal bounce, unsubscribe, and spam rates, and will (rightly so) land you in the dog house with your provider.
High bounce, unsubscribe, and spam rates not only make you look bad, they can even reduce your overall deliverability rates.
Click To Tweet
Ok, so you have a good understanding of what the numbers mean. Now what?
Use the Numbers to Make Data-Driven Decisions
If you've ever said to yourself, "My gut tells me…" then this is for you. Your gut is bad at marketing. Don't listen to it. Look at the numbers instead.
How about an example to see how you can use numbers to make changes in your marketing funnel?
For this example, let's invent a fictional squeeze page for your killer report, "Teach Your Cat to Fetch in 7 Easy Steps." So your funnel looks like this:

You drive traffic to the squeeze page, and people are opting in. You calculate your conversion rate on the squeeze page like this:
Opt-ins/Visitors = Conversion %
Now, only you can know what a good conversion rate is here. Numbers vary wildly across industries, and depend heavily on whether the traffic is warm or cold–in other words, do they know you or not?
But as a BASELINE, according to Wordstream, you should aim for a minimum of 5% conversion rate. Across all industries, 2.35% is average, 5% is is in the 75th percentile, and if you want to be in the top 10% of opt-in offers everywhere, set your sights on a solid 11% opt-in rate.
What if your numbers are really low? You're driving lots of traffic, but people just aren't opting in?
Then you have a problem with the quality and type of traffic. The people you're presenting your offer to simply aren't responding. Now, it could also be that your opt-in page is just not compelling enough, but generally speaking, even bad copy will get you some leads. David Ogilvy himself couldn't turn bad traffic into good leads, though.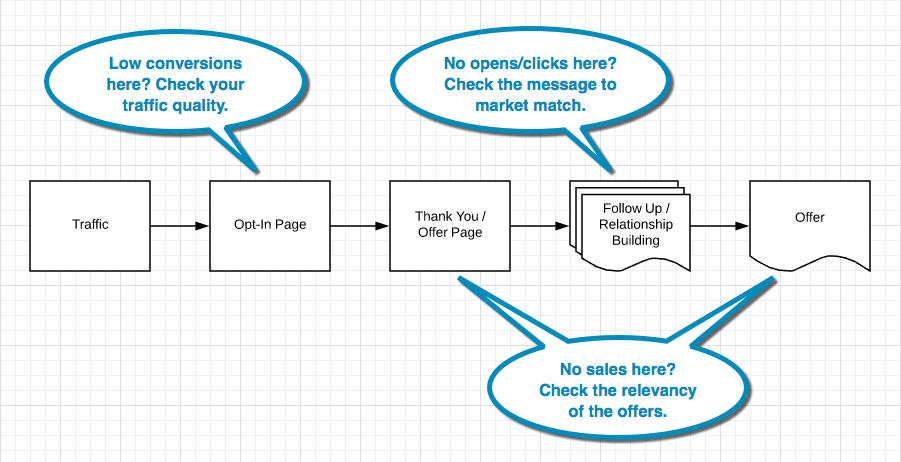 Next up, let's talk sales on your "tripwire" or "one time offer" (OTO) page.
OTO Sales / Number of Subscribers = Conversion %
If you're getting a decent conversion rate on your opt-in page, but no one is snapping up your offer, chances are good it's not a match for the initial opt-in.
Thinking of about our "Teach Your Cat to Fetch" guide, you might have an offer of video training on the thank you page, and that would probably convert pretty well. But if you try to upsell your new subscribers to a "Dogs Rule, Cats Drool" T-Shirt, you're missing the mark.
Your funnel will perform best if the next call to action is the very best next step for your subscribers to take.
Click To Tweet
That brings us to your follow-up emails. Here we're looking for opens and click-through rates.
Emails Opened / Emails Sent = Open %
Emails Clicked / Emails Sent = Click Through Rate (CTR)
Across all industries, Constant Contact reports that open rates average around 17% and CTRs around 7%. Depending on your market, your numbers may be much lower than that, though, so it's important for you to find your own baseline in order to make data-driven decisions.
If your cat-loving audience isn't opening or clicking on your initial emails at an appropriate rate, take a look at your message to market match again, and (when it comes to open rates) check your subject lines.
Just remember…
A better subject line can improve open rates, but poor message-to-market match cannot be fixed with stronger copy.
Click To Tweet
Got another offer in that funnel somewhere? Excellent! You can check your conversion rates for that with this simple equation:
Link Clicks / Sales = Conversion %
Again, only you can know what a good percentage here is… or maybe not. If you're promoting an affiliate offer, you may have no idea what to expect in terms of conversions. If it seems low, ask yourself if it's the next logical step for your readers. If not, replace it with something that is.
Continuous Improvement Should Be Your Goal
Years ago when I worked in an automotive factory, we spent time every year reviewing our procedures and improving our processes. Even a few seconds shaved from an operation could add thousands of dollars to the bottom line each year, simply by increasing the number of parts produced.
The same is true with your email marketing.
Make time to regularly review your conversions, opens, and clicks, and make changes to your funnels as indicated. The return on your investment can be significant.
51 Opt-In Incentive
Ideas That Convert
Easily fill your funnels with these inspiring, informative, and engaging freebies your subscribers will be eager to download!