Today, I asked Jessica Larrew from TheCourseCreatorsLounge.com some questions about working with affiliates to grow an online course business to the 7-figure per year mark. Jessica has been selling courses online since 2013 and has almost 300 affiliates signed up for her affiliate program.
She earns thousands of dollars every month just from sales she gets because affiliates are promoting her online courses all over the web.
Over the years she has learned a lot when it comes to successfully working with affiliates, so I wanted to ask her some questions specifically about setting up and running an affiliate program for online courses.
Enjoy!

Before we dive into the affiliate marketing aspect, I think it would help people to get to know you a little better first. Can you share a little about how you got started selling courses online and how you got to where you are today?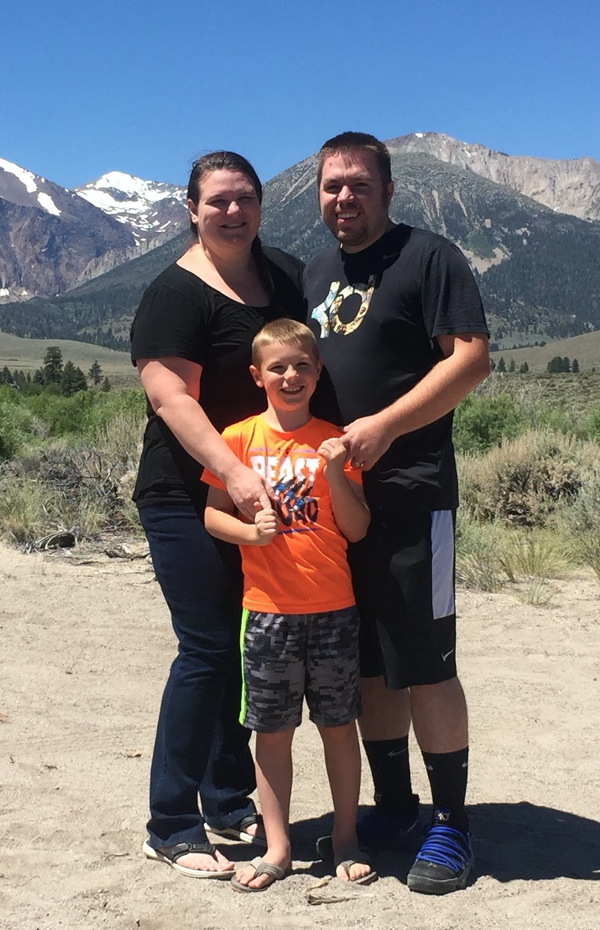 Yes, of course. Good idea!
Back in 2012, I was running another business from home with my husband. People were very interested in HOW we were making money so I was getting a TON of questions from people trying to figure out exactly what we do and how could they do the same thing. I enjoyed talking to others about it, but I was having the same conversations repeatedly. I think this is a common occurrence for a lot of online course creators when they get started!
Around the same time, I had started reading blogs online and thought, "I could blog about my business," and then the people who were interested could read it, and those who weren't wouldn't be bothered by me always talking shop.
I knew if I was going to create a blog, I would want it to a money maker. I just wasn't 100% sure how that would happen or what it would look like. I am an entrepreneur at heart! I figure there is always a way to make money; I just have to figure it out.
Luckily, I discovered online teaching quickly and was able to get that blog monetized within the first few months. In fact, my site generated over $100,000 in its first full year of going live. Almost all of that income came from courses and group coaching.
After setting up my first paid offerings, I immediately set up an affiliate program and started working with influencers in my industry to share what I was doing. I needed to get the word out in order to grow an audience quickly, and working with affiliates seemed like a win/win.
Since then, I've added almost 300 affiliates who promote my online courses and have around 15 paid courses available.
I've had a passion for helping online course creators grow their course revenue for a long time now, but until recently, I was only helping people I knew personally or from places like blogging Facebook groups and in-person events. I've got a lot to say on the topic, so I decided to create The Course Creator's Lounge. Now I have a place to work directly with course creators to grow their business without adding a bunch of new courses or getting burned out by always creating new content or doing big launches.
Side Note: For those readers who do not yet have online courses, I have a free worksheet that you can use to help you come up with the perfect online course topic for you to sell!
And that brings us to where we are today! Let's dive into your questions about starting an affiliate program.
I've heard from a lot of people that they WANT to start an affiliate program, but they don't know what to do first, or they think it will be too complicated. What are some of the things people should be aware of when creating their affiliate program?
That's a great question. There are two things that trip people up when they first start looking into creating an affiliate program.
The Tech – There are a lot of choices when it comes to software that can handle the back end of an affiliate program. The good news is, it doesn't have to be fancy, it just has to work! Typically, if someone is already selling a course, their shopping cart platform will actually have the ability to track affiliate activity and sales right within the same software. It's really just a matter of turning it on and checking the settings.
Previously, I used Amember, and I LOVE their affiliate interface and settings options. When I moved my courses to Kajabi, I had to switch my affiliate program as well. Even though it is not nearly as advanced, it still gets the job done, and both my affiliates and I earn money.
Commissions – This is a big one! People don't know how much they should pay their affiliates. Is 10% enough? How about 30%? And then the big concern of not wanting to 'give away' too much!
For an online course that is entirely digital and hands-off, I recommend at least a 40% to 50% commission.
Affiliates do hard work to promote products they believe in, and they deserve to get paid well for it! When someone asks me to promote a course and offer less than 40%, it's always a no from me.
Once someone gets their affiliate program set up, how do they find people to actually promote their courses? I've seen some of your competitors promoting you…How did you make that happen? Is it hard to find affiliates?
I love the process of finding new affiliates! It's my favorite module I teach in my course, "The Course Creator's Guide To Affiliate Hosting." I've got quite a few methods for researching potential affiliates, including finding affiliates of my competitors! I mean, if they are willing to promote their similar course, why not promote mine too?
I spend at least an hour a week looking for people I think would be a good fit as an affiliate for my courses, and then I reach out to them personally to see if they are interested in working together. I show them WHY it's a good fit and then share with them how much they can earn by promoting my courses. (Don't worry, I've got templates for this in the affiliate hosting course!)
I believe it's better to work with fewer affiliates that are the perfect fit for your courses than to have a ton of affiliates who might be an okay fit.
Regarding my affiliates who are also seen as competitors. The key to that is having something that differentiates us from each other. I look for things that I teach that they may not, and I share that as an advantage. They can promote my courses in addition to their own. Plus, I offer many courses, so if one is too close for comfort, they can select another course to promote instead.
I also promote a lot of people who are considered my competition, because I know that some people may better relate to their teaching style. So, if they didn't buy from me, I'll send them to the competition and try to get a sale that way.
What would you recommend to someone who already has an affiliate program, and who has trouble recruiting new affiliates or getting current affiliates to promote? What's the secret sauce?
That's a big one! The outreach strategy is so important.
I believe it's really all about personal communication and making sure that the potential affiliate is a good fit, to begin with.
As someone who is a big affiliate marketer myself, I get multiple emails every week asking me to promote a product. Many times I can instantly tell that I am just another name on a list they are working through. They don't know who I am, what I believe in, or who my audience is, and it shows.
If you get that first email wrong right off the bat, then your response rate will be super low.
With affiliates who are already signed up, I think two things help to get them to promote.
Making it easy – The less work that goes into promoting you, the more likely the affiliate is to do it. This could be participating in interviews like this one, submitting guest posts, creating awesome opt-ins, and providing swipe files.
Stay top of mind – The people I promote the most are the ones who are constantly giving me something TO promote. They email with new promotions, new content, new freebies, bonuses, etc.
As an affiliate, are there some invitations you turn down? Why?
I turn down over 90% of the requests I receive!
I'll share three reasons why I typically turn down an invitation to be an affiliate for someone.
They didn't make the outreach personal. This is a huge one for me. I've already mentioned it once today because it's that important! We only get one chance at a first impression, right? So, if that first email makes me feel like they didn't take the time to get to know me, then I'm a no!
Typically it goes something like this:
"Hey Jessica. I see you talk about internet marketing. I have this tool that makes affiliates a lot of money. Are you interested? Let me know, and we can hop on a call!"
That type of email goes right to the trash! I mean, the topic isn't right. I don't want to hop on a call with anyone I don't know. I could care less about the money other people make. I want to know the details, and I want to know that they have a fantastic affiliate program!
They pay low commissions! I think this goes without much explanation 🙂 If they are offering me 10-30% to promote their course, I'm out. I can use my email spaces to promote things that value my effort more.
They just aren't a good fit. Unfortunately, I get these requests all of the time! It's really a waste of everyone's time to promote something that isn't a good fit for the audience. That's why I spend so much time on the vetting process myself. I want to know 100% that the person I am reaching out to is a good fit.
There are quite a few other mistakes I see affiliate hosts make, so I put together a free report with 11 Affiliate Hosting Mistakes, and you can grab it right here. If you avoid doing these things, you will be miles ahead of your competition!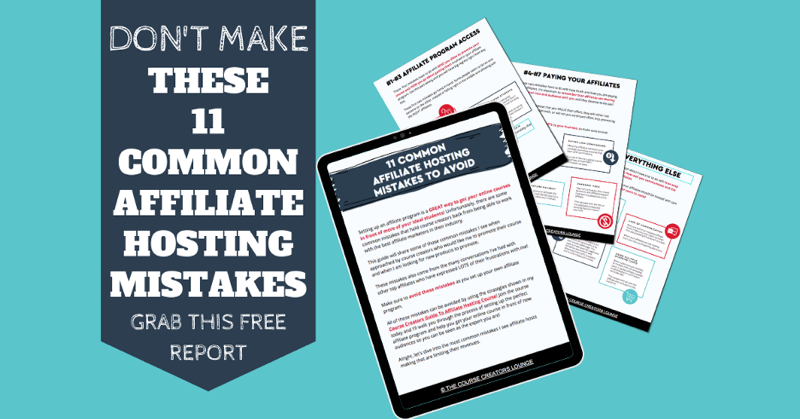 Thanks for taking the time to answer those questions. I know it will be really helpful for everyone who is looking to put together an affiliate program for an online course.
If you want to learn how you can get your course in front of new audiences and set up an affiliate program that will have top affiliates willing to promote your course, check out Jessica's course, The Course Creator's Guide To Affiliate Hosting.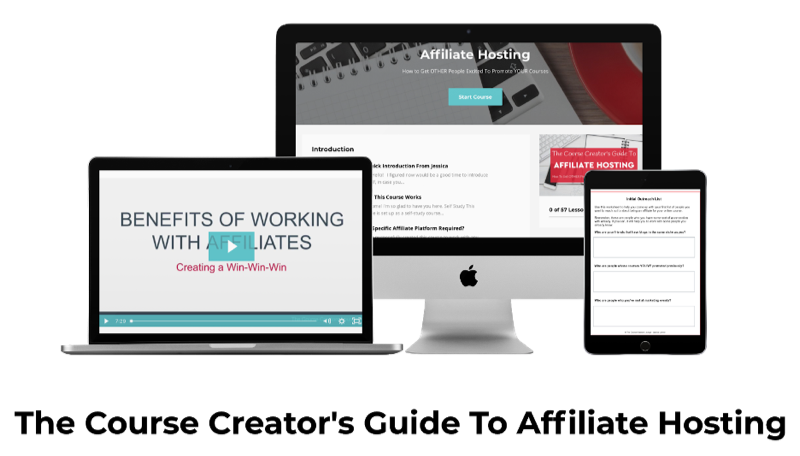 I have to say, I thought I knew everything there is to know about running an affiliate program—I pay out well over four figures every month to my affiliate partners—but I learned a few things taking this course. If you want to create an affiliate program others will happily promote, I highly recommend Jessica's course. You'll earn back your investment many times over just using the strategies she shares inside.